Relieve pain. Increase mobility. Improve quality of life.
Macquarie Physiotherapy has been providing quality, personalised physiotherapy for people throughout Lake Macquarie and Newcastle for almost 30 years. With three practice locations throughout the city in Belmont, Gateshead and Glendale, we have an experienced physio near you.
Whether you have an injury, you've just had surgery or you're suffering from niggling or chronic pain, our highly trained, knowledgeable staff can help.
What to expect when you visit Macquarie Physiotherapy
We're 100% committed to helping you improve your overall health, strength and mobility.
After an examination, we'll explain the cause of your discomfort. Then we use a variety of hands-on techniques and exercises to help correct the issue. We might also recommend additional treatment like orthotics, bracing or a gym-based exercise program.
We take a holistic approach to your well-being so sometimes we need to work alongside other healthcare professionals.  If you need a specialist referral, we have strong relationships with orthopaedic and neurological surgeons, so you get coordinated care for the best possible outcome.
Physiotherapists
Our university trained and qualified physiotherapists  provide maintenance and restoration services to help improve your body's physical function and performance.
Exercise Physiologists
Our university qualified allied health professionals have the knowledge and skills to design and deliver safe and effective exercise programs.
Registered Exercise Professionals
Registered with Fitness Australia, REPs provide individual assessments, personal training, group fitness sessions, health monitoring for people of all fitness levels.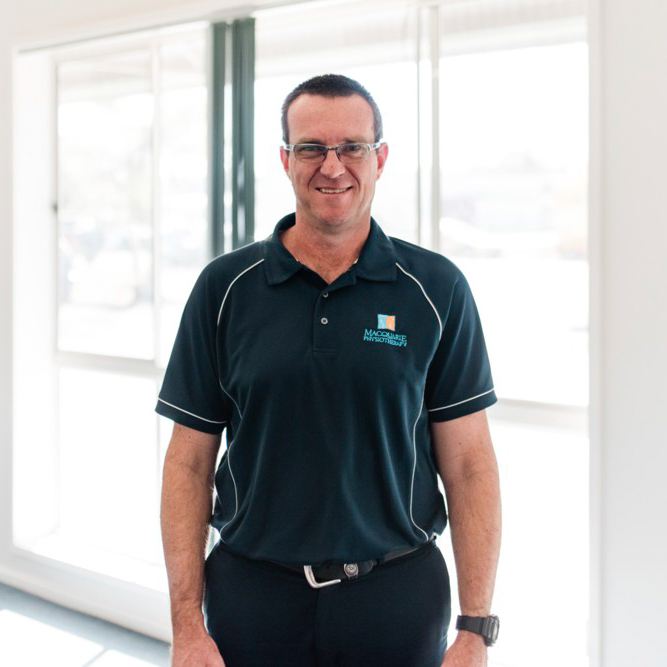 Rod Millington
Owner, Director & Physiotherapist
I enjoy working with patients from different backgrounds and making a difference in people's lives, reducing pain and improving mobility. I've previously represented Australia in surf lifesaving and I still love surfing, snowboarding, travel and playing with the mighty New Lambton FC O35 Dodos.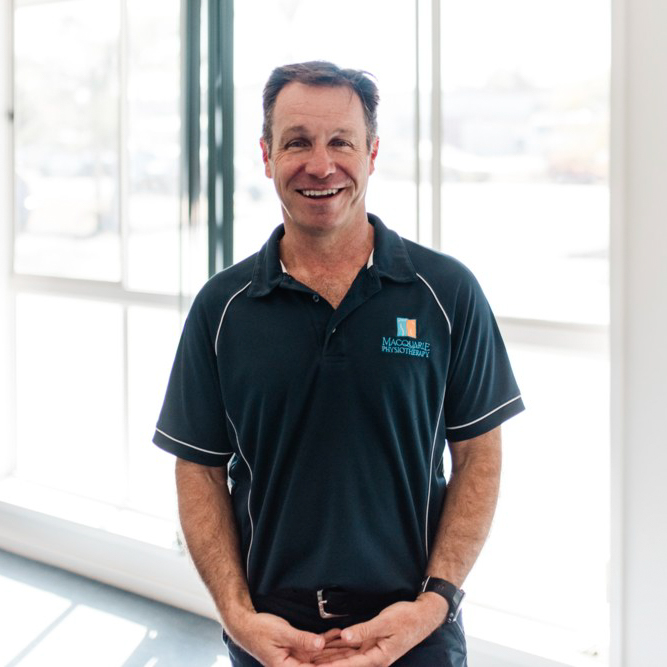 Warren Lovell
Owner, Director & Physiotherapist
I've been part of this team since 1997 and my areas of speciality include creating custom-moulded orthotics, dry needling, post-op shoulder rehab and hydrotherapy. I'm a keen surfer, snowboarder, mountain bike rider and playing over 35's soccer and AFL.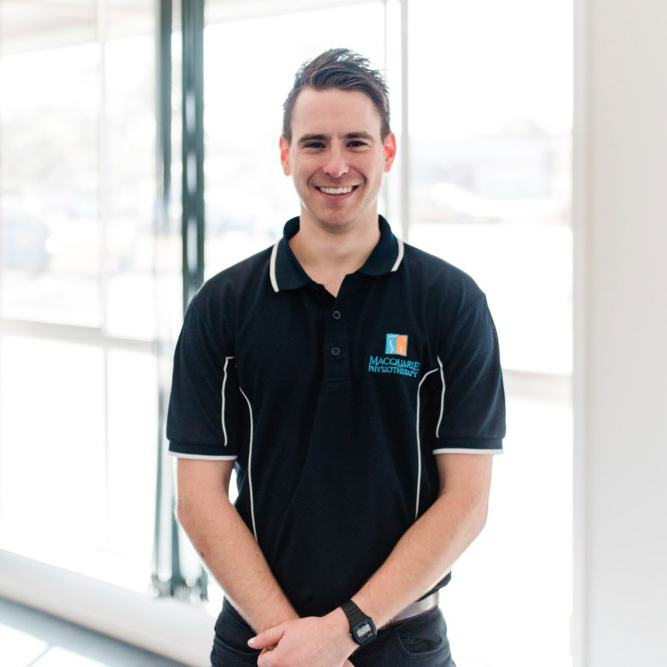 Shaun Frazer
Owner, Director & Physiotherapist
My first year of physiotherapy was spent at the John Hunter Hospital in 2012. I began my career with Macquarie Physiotherapy in 2013 and haven't looked back since. As a part of my job I've enjoyed meeting people from all walks of life and helping them get back to doing the things they love. When I'm not playing hockey for Norths or watching sport, you'll find me with my wife, our little boy and baby girl.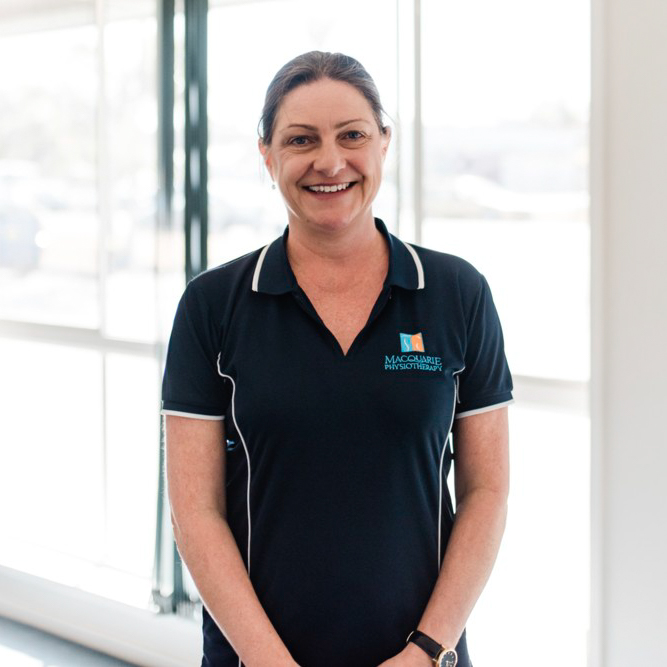 Nicola Millington
Practice Manager, Physiotherapist & Pilates Clinician
I love that Macquarie Phyiotherapy is a big family where we support each other and our clients. I've been part of the team for 20 years and have a special interest in headaches and dance. It was my privilege to be the physio for the Birmingham Royal Ballet in England. Outside of work I love my family, travelling and cooking.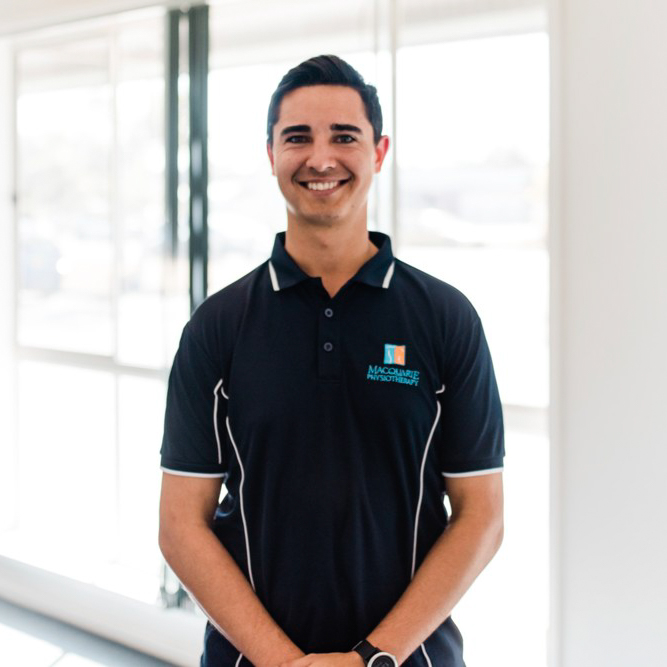 Aaron Percival
Physiotherapist & TPI professional
I'm a Gamilaraay man from North-West NSW. I've been a physio here since 2016. I enjoy soccer, golf and cycling and I'm passionate about the positive effects of sport. I serve on the board for the National Physiotherapy Group's committee responsible for improving physio services to Indigenous Australians. I've mentored university students across different health programs at The Univesity of Newcastle. Pop in and see me about any needs sport, especially Soccer and Golf!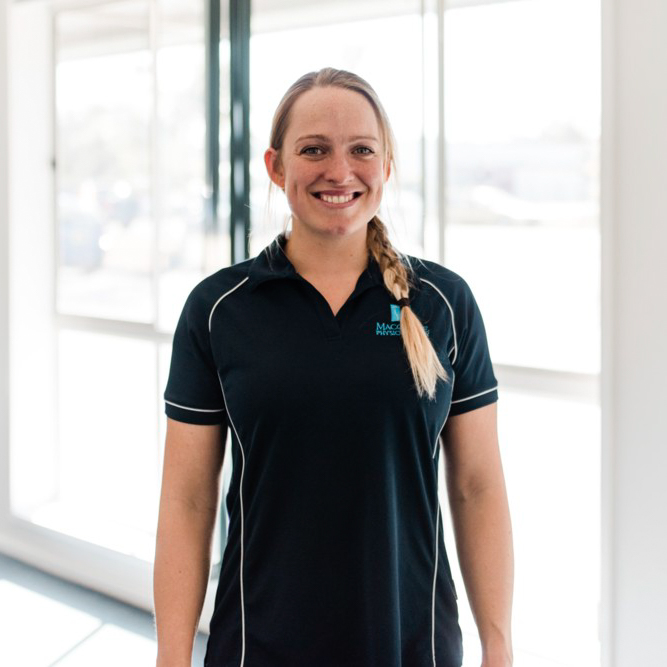 Annie Gibson
Physiotherapist
I love helping people see the value in looking after their bodies & finding the most effective way to do it. My areas of specialty are biomechanics and acute injuries. Outside of work I love surfing, hiking, ju jitsu, live music and travel.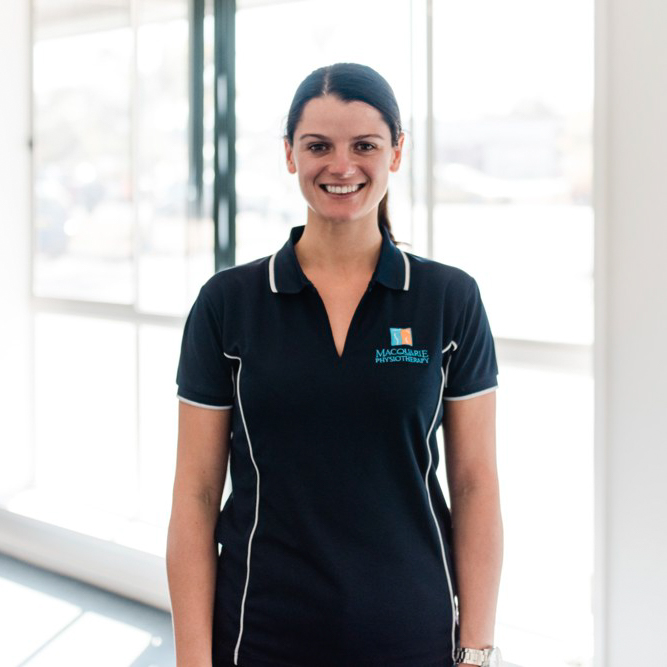 Nicole Pereira
Physiotherapist & Pilates Instructor
I joined the team in 2019. I'm interested in biomechanics, and I oversee my patient's rehab to prevent further injury by making sure they are moving correctly. Outside of work, I enjoy the outdoors, camping, surfing & running.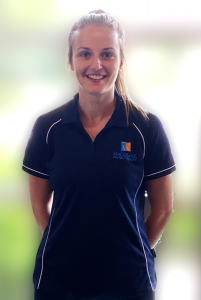 Emily Moyle
Physiotherapist
I am a recent Physiotherapy graduate from Victoria and I love all things health and exercise. I really enjoy empowering clients to see and experience the many health benefits of exercise.
When I'm not at work you'll find me at the beach, the gym or exploring the Hunter region.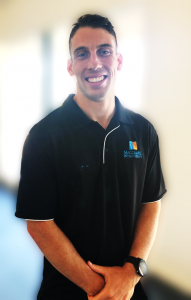 Jeremy Matthes
Physiotherapist
I joined the team in 2021 after completing my new-graduate year at the Calvary Mater Newcastle Hospital. I am passionate about working with people to achieve their goals; helping them to live a fulfilling life. Prior to becoming a physiotherapist, I completed a Diploma in Outdoor Recreation, and outside of work I enjoy mountain biking, surfing and running. I also have a love for playing basketball and the NBA.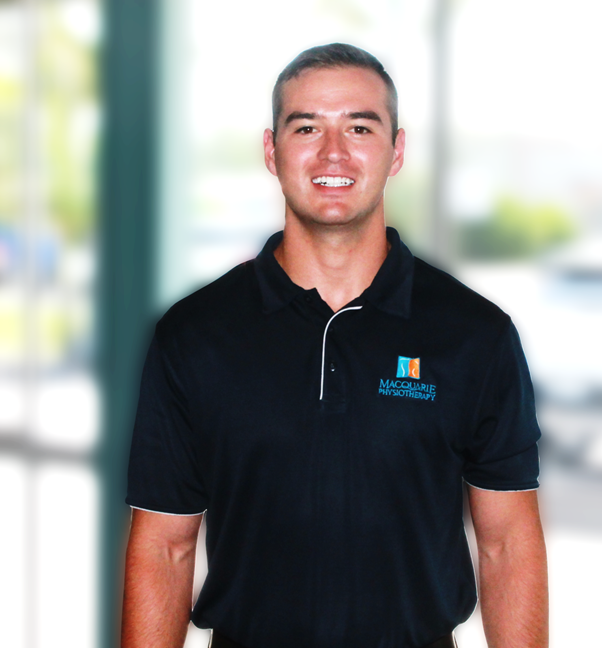 Liam Brown
Physiotherapist
I am a recent graduate from the University of Newcastle. I enjoy getting to know my patients and take a great pleasure in assisting them in managing their injury or niggle. As a big sports and exercise enthusiast, in particular football, basketball, and weightlifting, I like to spend my spare time watching or participating in sports and outdoor activities.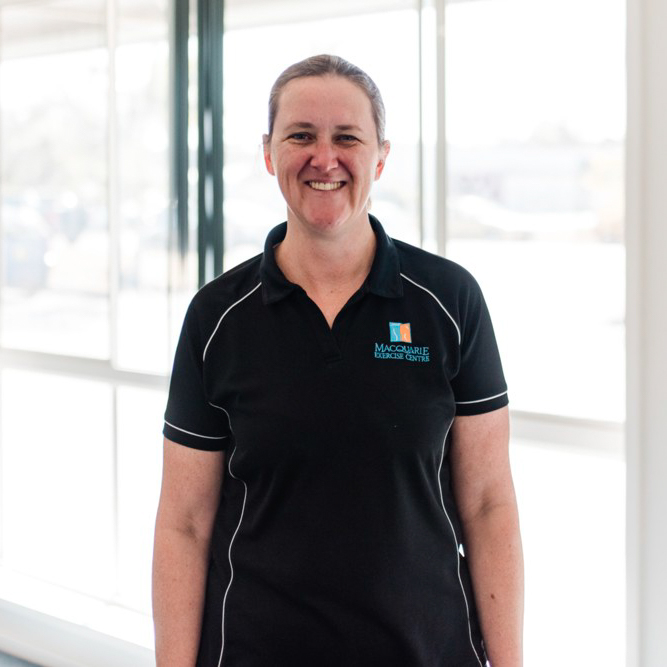 Amy Harding
Accredited Exercise Physiologist
I love seeing people discover that they can do more than they think they can. Running is my passion and I'm Run Director at Callaghan Parkrun.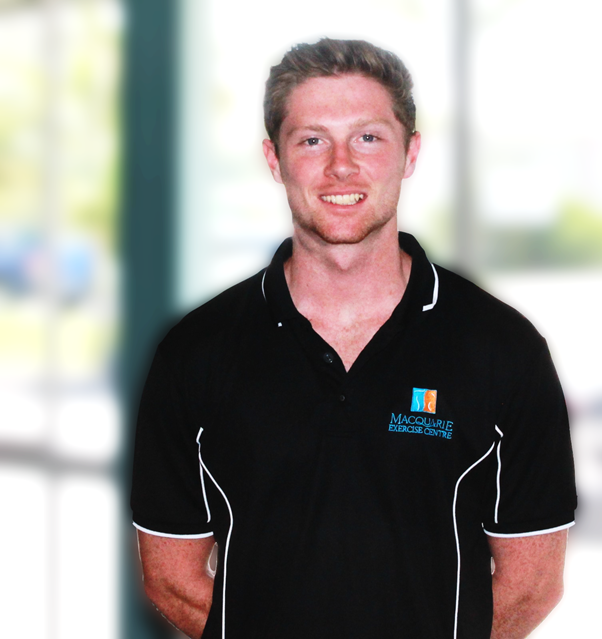 Riley Holohan
Accredited Exercise Physiologist
I started working at MEC as a placement student and was offered a permanent job at the clinic in July 2020. I'm passionate about assisting people in their rehabilitation to return to a pre-injury condition and improve overall health and quality of life. I am also passionate in the areas of athletic strength and performance. I play football for the New Lambton Eagles, love hanging out with mates, and am a huge fan of Liverpool.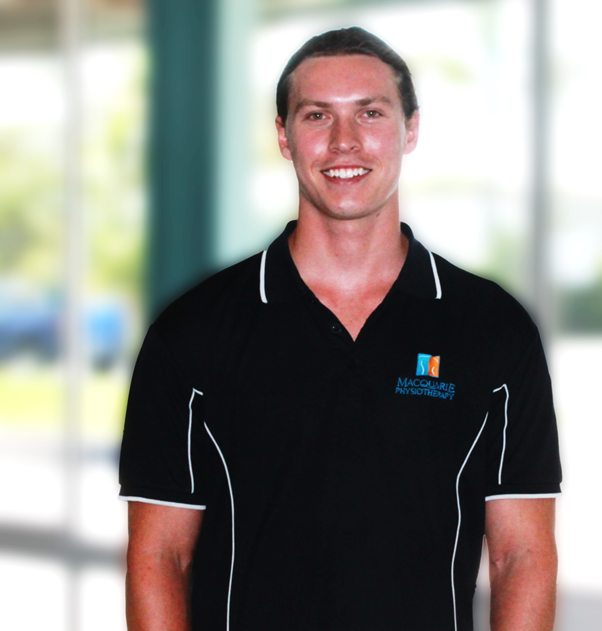 Jacob Bartlett
Exercise Scientist
I aspire to help people progress and achieve their short and long term goals and I enjoy sharing my knowledge base on the importance and benefits of exercise and strength training. Outside of work I play soccer and futsal, go to the beach, socialise with friends and work in a cellar door where I pour the greatest product ever made… wine.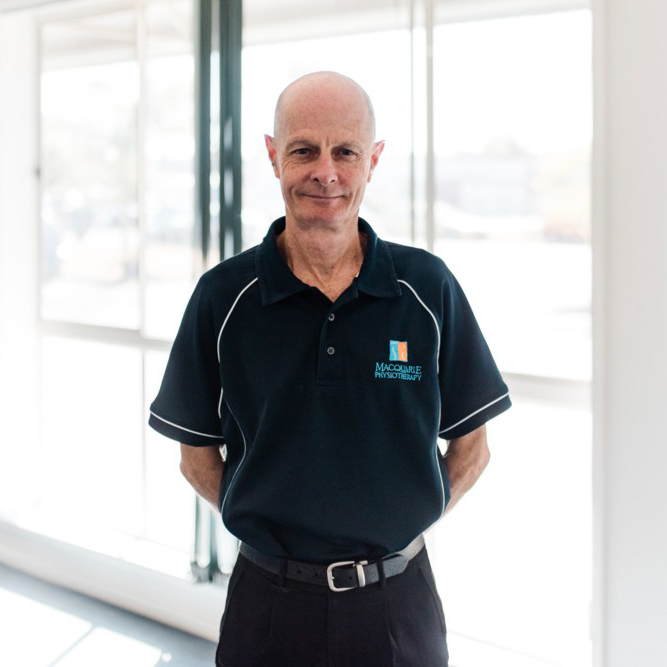 Greg Cowley
Massage Therapist
I'm a Remedial Massage Therapist and I've worked across the Gateshead, Belmont & Glendale clinics for the last 10 years. I get a lot of great satisfaction from enhancing people's well being. I also enjoy running and competing in state and national Masters Athletics events.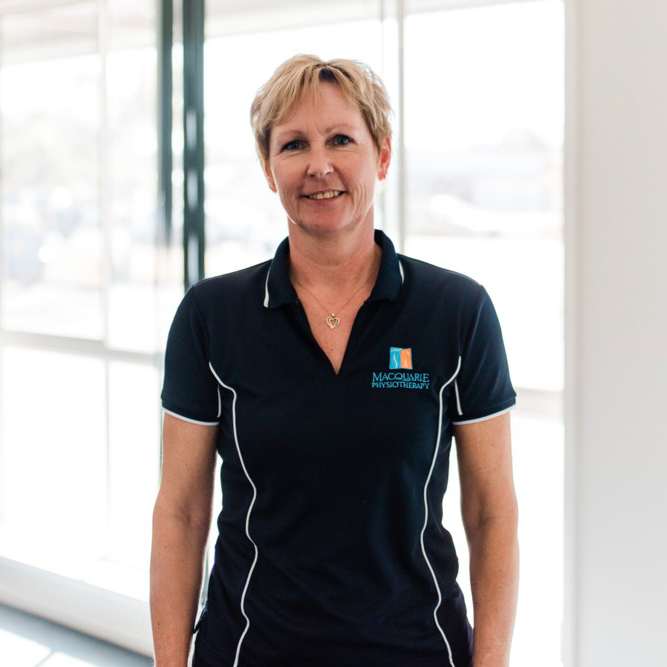 Gabi O'Hara
Reception & Personal Trainer
I'm originally from Austria and I've been at Macquarie Physiotherapy for 10 years. I love making people comfortable and try my best to put a smile on their face. I have a passion for horses, being outdoors, exercising and socialising.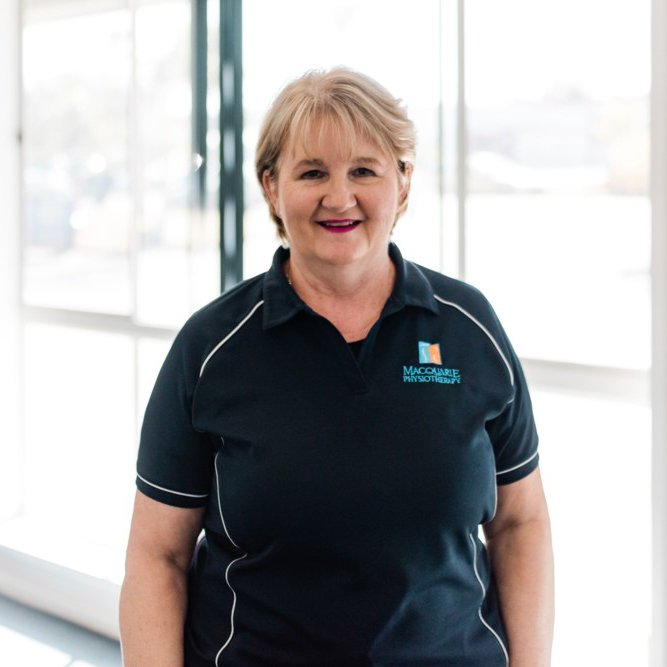 Jan Pollard
Reception
I started working here in 2007. My favourite things are working with the young team and talking with our patients. I pride myself on learning one new thing every year and I recently became a Civil Marriage Celebrant which I enjoy greatly.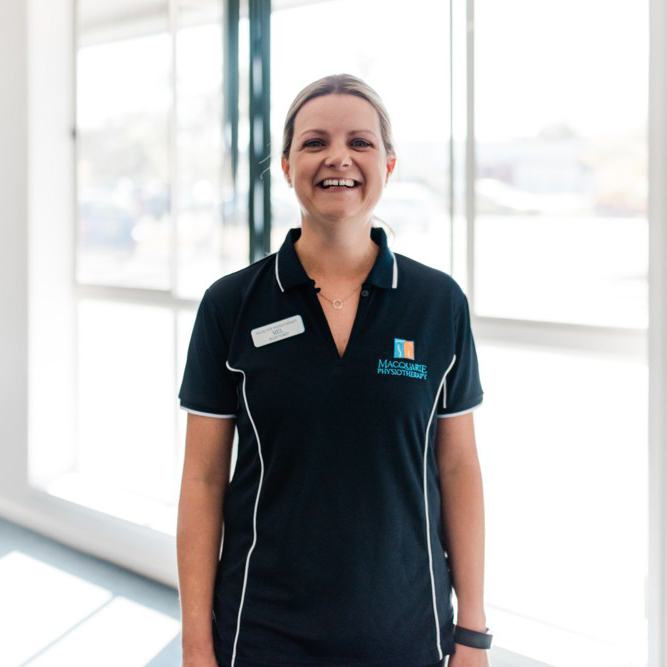 Melissa Crouch
Reception
I enjoy chatting to patients and being the friendly face when they come through the door. Even though I've been working here since 2006, I'm originally from Northern Ireland so I'm the one with the accent.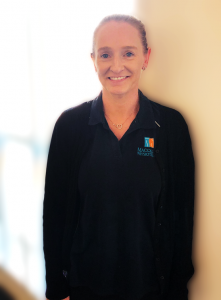 Nicole Bird
Reception
I moved from Sydney and joined the team in 2013. I love meeting different kinds of people everyday and hearing all their amazing stories. When I'm not at work you will find me chasing after my 4 kids and husky or soaking up the sun in the great outdoors. Other than kids my neglected passions are all sports (specifically running, oz tag and netball) and travel.